REAL ESTATE CAREER-The Power of Us. The Freedom to be You.
Most real estate companies aren't all that different from each other. But Real Living Pittman Properties is an exception that stands out.
We're a local company (since 1976) with national strength - so our agents benefit from all of the latest technology, sophisticated marketing tools and ongoing training.
At Real Living Pittman Properties, we don't expect you to "be like everybody else," and that's why we're so successful.
Whether you are an experienced agent, studying for or contemplating a Real Estate career, we are looking for the best. Check us out and you'll be pleasantly surprised to realize that our company can offer you a career that includes the freedom to be you.
10 Reasons to Partner with Real Living Pittman Properties
1. Various commission schedules to choose from.
2. Start up and ongoing training at no cost.
3. Locally owned stable company for 40 years and national name recognition.
4. Offices throughout the Triangle area.
5. Lowest monthly fees among major firms.
6. Low start up cost reimbursed after first closing.
7. Free: professional marketing materials, a Real Living "agent web site" and email account.
8. Advanced technology and WIFI high speed internet in each office.
9. Office computers, fax machines, and printers offered for your business needs.
10.360 Service® certification to set you apart from the competition.

Contact us for many more reasons to partner with Real Living Pittman Properties. We look forward to exploring a business partnership with you! Call Careers at 919-277-4622 or email

careers@HomesByPittman.com

.



"I have been working with Real Living Pittman Properties for 16 years now as a real estate broker. As a former business owner, when I decided to start a real estate career, I wanted to work with a real estate firm that would give me the freedom to run my business as I chose to, but at the same time, have access to any training needed and advice from time to time with difficult transactions. I have found my history with the firm to be a fantastic journey, and it has been a pleasure to be working with ownership of a company that has strong character and integrity."

Johnnie, Real Estate Broker, Real Living Pittman Properties


Start Your Real Estate Career with Real Living Pittman Properties
Do You Have the Right Personality?
Expertise Becomes Confidence
The important thing to remember is that any worries you may have over "social shyness" doesn't really apply to your real estate career. Knowledge of real estate and your local market will give you the confidence to talk with, work with and establish long term relationships with people that you might otherwise be hesitant to talk to, out of a sense of social restraint.

You may have to stretch your comfort zone at first, but it becomes easier every time you talk with a potential buyer or seller. The more you know, the more you work, and the more customers you assist, will all diminish any sense of shyness you may have on the job. As your professional capabilities and reputation grow, you may find yourself becoming less shy in your personal life, and building an even wider circle of friends.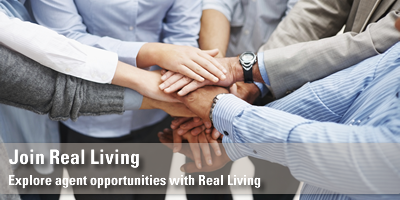 What does a Real Estate Career Entail? How Do I Get Started?
If you have a real estate license, and are just starting a new real estate career, here's how it typically works: You are an independent contractor, working on behalf of the company and not an employee of the broker you work for. You are provided with many benefits through your association with a broker, including support through marketing, training and association with an established company.

In the beginning of your career, many "leads" for potential home buyers or sellers may be generated by the broker for you to follow up on. You may also be responsible for "floor time", in which you are on call at the real estate office to assist walk-in customers. As you gain experience and a wider circle of contacts, you will generate many leads of your own.

Your initial job is to respond quickly and clearly to the needs of these potential customers, and to demonstrate the capability of your company and yourself to represent them. If the customer agrees to work with you, you represent them as either the buyer or a seller in the purchase of a home.

Proving the Value You Provide
There is a difference in real estate companies. At Real Living Pittman Properties, we are building a business that outperforms traditional real estate models and gives our Real Estate Agents the tools they need to succeed. This partnership with our Real Estate Brokers, Managers and Agents helps us all to increase market shares and earnings. The cornerstone of our business model is Premier Service®. With Premier Service we give customers what they want - a higher level of trust in their Sales Professional and the service they deserve. See our company "Core Values".
360 Service: A Measurable Difference
360 Service provides our real estate agents with the tools they need to be a Trusted Advisor, Skilled Negotiator and Expert Facilitator®, and to take their real estate career to higher level of customer satisfaction.

When the transaction is completed, the customer is asked to evaluate the process and provide feedback on the level of customer satisfaction he or she experienced. Through 360 Service, Real Living Pittman Properties has established a proven 99% national customer satisfaction rating – one of the highest in the industry.

How many real estate companies can say that. This can be a powerful competitive advantage for you. When you meet with potential customers you can show them a high level of satisfaction from your own clients.
Customer Satisfaction, Customer Referrals
By giving customers a world-class home buying or selling experience, our Agents set the stage for repeat and referral business that will help them make or exceed their personal career goals.

Whether you're a seasoned professional or just starting in real estate, we invite you to join our team and reap the rewards of 360 Service. When you deliver a predictable, consistent and reliable level of service and garner an unusually high customer satisfaction rating, word will spread and you will achieve real, sustainable success in your real estate career.

For more information on starting your real estate agent career with Real Living Pittman Properties, please email careers@HomesByPittman.com or call Careers at 919-277-4622 and inquire about real estate career opportunities in an office near you.